Set your own ideal temperature
The Smartduvet allows you to set your preferred temperature and bed making time directly from the app. Preheat or cool your bed ahead of time to get the best night's sleep
---
HEATING
To achieve a warm and dry feeling on warm mode the Smartduvet uses heated air sent from the control box and distributed evenly throughout your selected side of the bed. The openings in the Smartduvet layer help eliminate the humidity and keep you dry and warm all night.
COOLING
The Smartduvet uses a scientific effect called evaporation cooling to cool your body using only the room temperature air. The same natural phenomenon is used by our body to regulate its temperature. As water escapes our skin through evaporation our body becomes physically cooler since this air vapour brings heat with it when it leaves the body . By raising air circulation under your duvet, Smartduvet increases the body's natural evaporation process creating a real cooling effect on the body without using a noisy compressor or any greenhouse gases.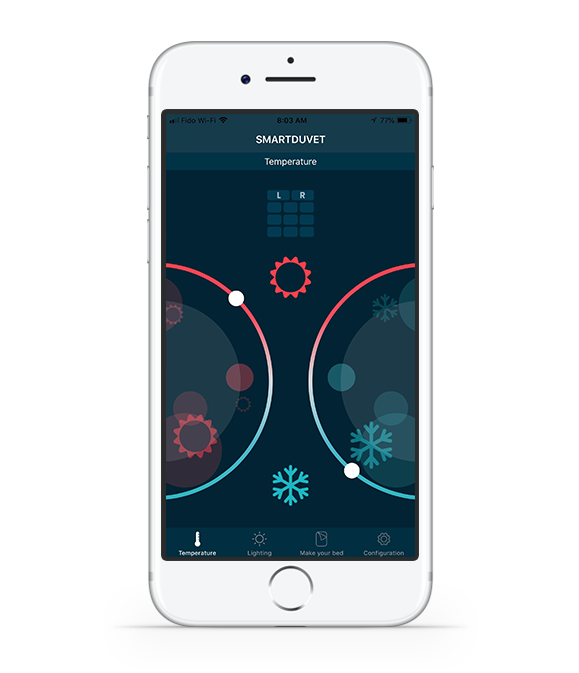 Set your desired temperature individually for each side of the bed. You can use it to pre-heat or refresh your bed prior to going to sleep.
---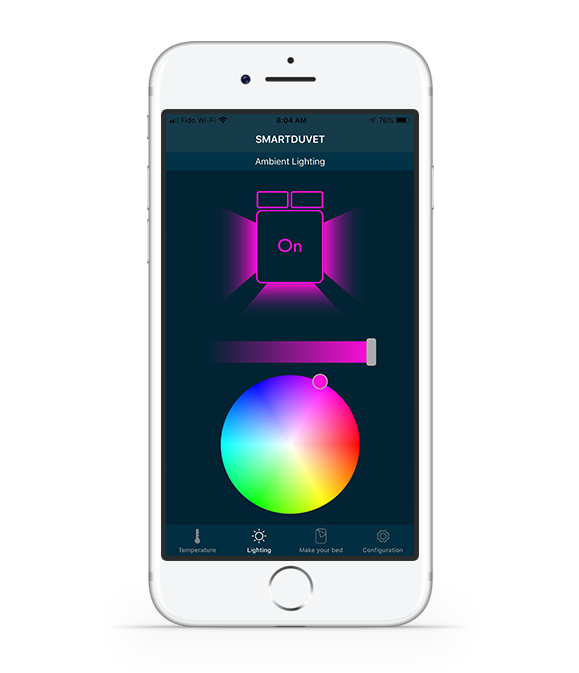 Choose your favorite ambient lighting color and intensity or switch it off at the touch of a button.
---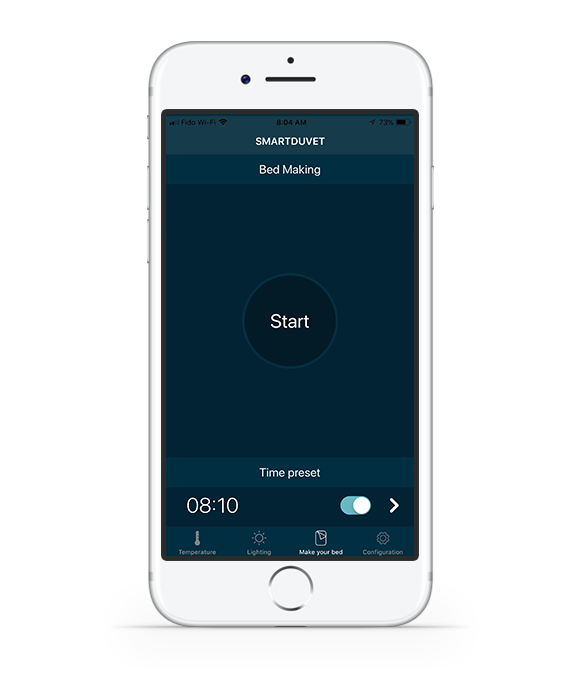 Have your Bed made for you at the touch of a button or by setting your preferred schedule.
---
A green product that pays for itself

With the Smartduvet you heat or cool your body directly instead of the whole house thus reducing your electricity consumption and carbon footprint.
The Smartduvet control box conviently stowes under the bed. It uses an air blower to make the bed in the morning and deliver the a quiet gentle breeze during the night.
SmartDuvet will have you sleeping in perfect comfort every night without having to worry about making the bed in the morning.
---
FREQUENTLY

ASKED

QUESTIONS
The noise level for the heating and cooling functions is very low, lower than a small table fan. The bed making mode noise level is higher but should not impact you as much since the bed can be made when you're away.
Are there any electronic components in the bed?
We design the Smartduvet with your health and safety in mind. We placed all certified heating elements and electronics in the control box which makes it much safer than our parent's heating blankets.
How can it possibly make my bed for me?
The Smartduvet patent-pending bed-making technology is effective yet very simple. It pumps air in the inflatable layer placed between your existing duvet and duvet cover forcing the layer to return to its original shape. Since your duvet, duvet cover and top sheet are attached to the layer they follow along. The process is very similar to inflating a camping mattress, which always returns to its original shape regardless of how bad it's twisted or folded.
Where does our product ship?
We ship internationally. Shipping cost reflect the transport charge, some countries may charge import taxes which are not included.
What are the available dimensions?
Here are the available sizes.
Single/Twin Bed 59"x79"

Full/Double Bed 80"x80"

Queen Size 90"x88"

King Size 90"x102"

California King 94"x104"
Dual-zone climate-control: Queen, King and King Cal
Single-zone climate-control: Single/Twin and Full/Double